Pambula-Merimbula Golf Club provides
the Sapphire Coast's premier 27-hole golf course. An easy to walk course with large subtle greens and lush fairways set amongst the natural beauty of native bush land and the lake, with abundant wildlife all around. If you don't keep an eye on your ball, our kangaroos are sure to. Our fully equipped pro-shop offers all hire equipment including motorized carts as well as all the assistance you could require with your game.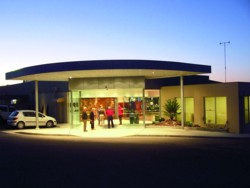 Unsurpassed practice facilities are only
rivaled by the spectacular clubhouse and its facilities. After the Golf relax with a coffee or a cold beer in the Sapphire Coast's most spectacular Club with sweeping views across the course to the lake; a view not to be missed. The Golf Club Bistro will also provide the finest fare on the Coast featuring fresh local produce including seafood, beef and game all complemented by brilliant Australian wines. The Golf Club Bistro provides lunch and dinner 7 days all overlooking our course and kangaroos.
Our shuttle bus can arrange to pick you up and take you home. Golfing groups are especially catered for with transfers, catering and golf presentations specifically coordinated. Corporate groups are welcome with conference and golfing facilities combining to make an ideal Sapphire Coast experience.

Quality accommodation featuring pool and tennis court, is available on the Club's doorstep so less time traveling and more time golfing and relaxing. Great golf, great food, great location, spectacular views, wildlife and wine... wish you were here!







Latest news

" ... this might be the best-value golf destination around"